Balthazars
The Brussels Furniture Fair awards
AND THE WINNERS ARE…

The annual highlight during the Furniture Fair is the announcement of the Balthazar winners. Judging from the crowd that gathered to hear the results, the prize is certainly proving popular with Belgian and foreign manufacturers/exhibitors alike! Unlike in previous years, the jury took an unusually long time in its deliberations.
The jury members were: Marie-Anne Desiere, Siegrid Demyttenaere, frances van der Steen, Elien Haentjens and Chris De Roock. They chose the following winners: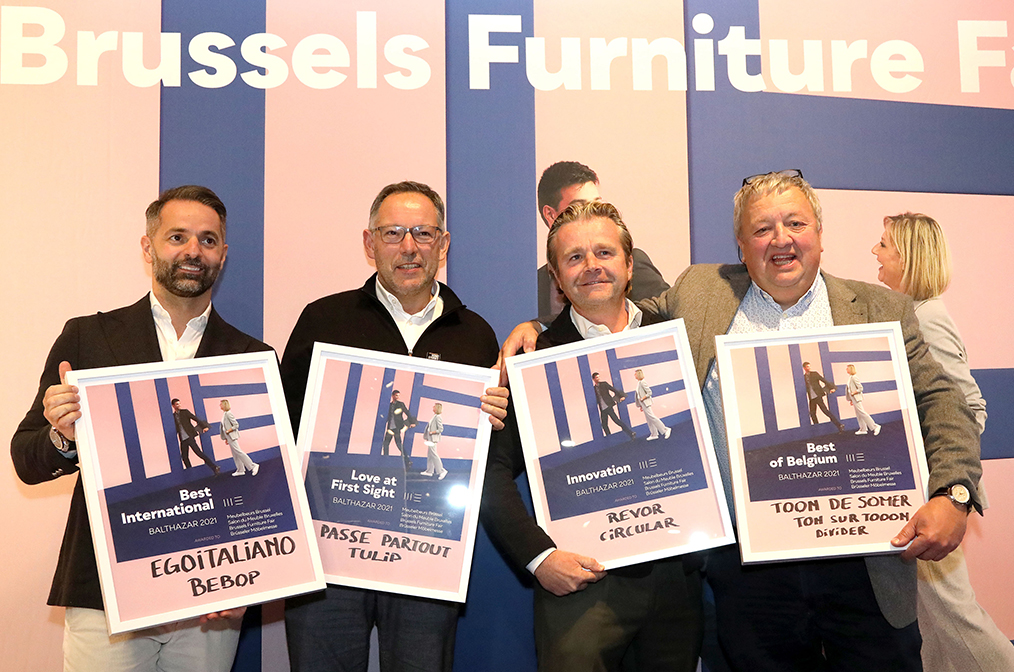 Best of Belgium
for the best Belgian product/collection

Innovation
for the most innovative product/collection

Best International
for the best product/collection of a foreign exhibitor

Love at first sight
for the product that most captivates the jury
Balthazar winners in 2021
the winners and laureates have been chosen

Toon De Somer – Ton sur Tooon divider (design Mathias De Ferm)
Best Of Belgium
It's astonishing how a single metal element can make a world of difference. How it adds new dimensions to the spatial architecture, multifunctionality and acoustics. The uprights have a rounded, L-shaped design. They offer an asymmetric picture, of open compartments on one side and closed surfaces on the other. Even the space inside the uprights offers a wealth of possibilities.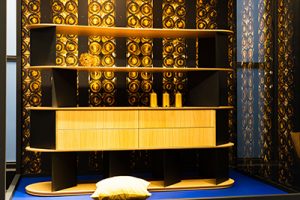 Laureates:
Saunaco with Cas collection 2.0 (design Studio Segers)
Theuns with Izola

EgoItaliano – Bebop
Best International
An archetypical and symbolic model, a metaphor for the (post-)coronavirus era. A re-design of the retro style, with Italian flair. The bi-stretch fabric provides a contemporary twist. The yin yang pouffe and the combination of black and red are a perfect reflection of the current times. Bebop marks the beginning of new 'roaring twenties'.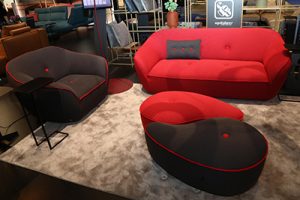 Laureates:
Calia with Milla
Kluskens with A-Table (design Studio Segers)

Passe Partout – Tulip (design Axel Enthoven)
Love at first sight
The elegant, slim armrests are open like the petals of a tulip in bloom. It is exceptionally inviting and heart-warming. 'Come, take a seat.' The cushions are both playful and comfortable. Take note of the detail in the finish. Tulip is an original, elegant interpretation of the omnipresent organic trend.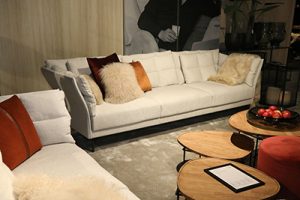 Laureates:
Moome with Lala (design Yonoh)
WR Inspired with Mona

Revor – Circular
Innovation
The time to act is now. The Circular is the perfect solution: a 100% circular pocket spring mattress. Composed of just two circular mono materials: steel and polyester. These can be completely separated and endlessly reused, with no loss of quality. Raw material waste is eliminated. A QR code facilitates the path to the circular future of your mattress.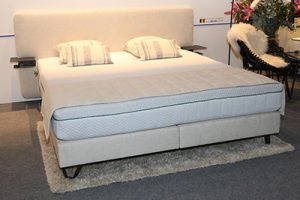 Laureates:
LS Bedding with Ergosleep Cocon 2.0
Otium Care with Hector